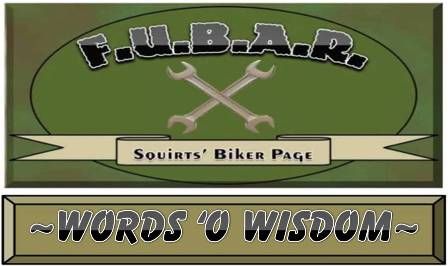 ---
---
---
All right, now let's review. You are a biker, a modern-day knight
of the road. Protect the weak, walk tall and stand proud. Your
word is your bond. Stick to your guns. Don't take any shit. Life is
not a drill. Now go forth and ride. When in doubt, ride. That's
what we do...ride. If you want to ride around in a Day-Glo
Hawaiian shirt and sandals, go for it, but if you intend to look
like a goof, at least don't act like a goof. These commandments
are just a few of the broad strokes. There is a lot more to being a
biker than buying a bike. If you just buy a bike, you are a motorcyclist.
Being a biker is a way of life , a proud way of life we hold in high regard and
with a burning passion-for the open highway and for life.