November 2010
'78 Kawasaki KZ 1000 Bobber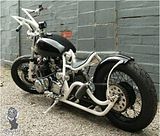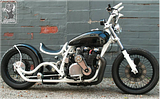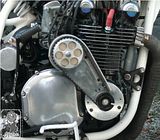 I am a fan of the early KZ 1000s after having an '85 KZ 1000 P-4 (Police Special) for a few years. The KZ 1000 engine is famous for being practically bulletproof and I can personally attest to what an old KZ 1000 engine can do when it is tuned and running properly. I've owned a fair amount of bikes, and the KZ 1000 I owned remains one of the fastest bikes I've ridden. November's bike caught my attention because of its great custom tube work on the frame. Aside from the goofy handlebars, this is a great example of takin' what is normally an old "UJM" (Universal Japanese Motorcycle) and makin' it into a cool custom bob job.
1978 KZ 1000
ENGINE:
Stock KZ 1000 engine with a GT 15 turbocharger. Mallory belt drive magneto; Walboro electric fuel pump; blow through intake and carb set up' Mallory rising rate fuel pressure regulator; OBX blow off valve; Running 5 pounds of boost (adjustable to 15 pounds). Dyno'd at 120 HP; Foot clutch/ hand shift
FRAME:
Frame is a custom one-off combination of twisted and bent tubing.
If you would like YOUR bobber or short chop to be featured,
zap me
at least three good pix (more is better), any specs, and the story about the build.
See More Bobbers Here! ~~ HOME