I've been operating SBP since 1998 and been featuring bob jobs 'n short chops since probably 2000, so when I am looking for bikes to add to tha' collection, I am not necessarliy lookin' for tha' "coolest", skull and flame jobbed creations out there. In fact, garage built and small shop-built bikes will ALWAYS take tha' lead in my book. A bike, regardless of brand, has to not only "look" right, but must also show some individual creativity. THIS bike did just that. Enjoy!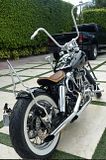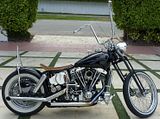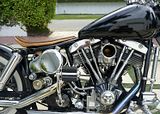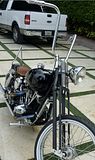 1978 Harley Davidson Shovelhead in an '80 frame...
What drew me to this bike was the jockey shift- hand clutch combo. It's been my experience that most riders of big twins prefer jockey shift- foot clutch as opposed to hand clutch if they are lookin' for somethin' different.
As a side note, many of those who profess allegiance to the venerable Shovelhead engine tend to look down upon Ironhead Sportster riders. Ironically, not only did the Ironhead arrive before the Shovel, but the Shovelhead was born from the design of the Ironhead. Considered the last true Harley Davidson engine designed and built entirely by HD, the Shovelhead served its purpose in production for 18 years, before bein' replaced by the Evolution ("Evo") engine. Retired in 1984, the Shovelhead design continued on in the Ironhead sporty for another 2 years before it, too, was retired from production.
Showin' my age, I can remember back when the Shovelhead was considered a trashy and weak design by those who professed allegiance to the Panhead design. Nowadays, those who ride Shovelheads are considered to be "old school cool". = )
If you would like YOUR bobber or short chop to be featured, zap me at least three good pix (more is better), any specs, and the story about the build.