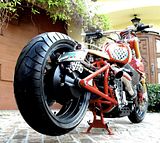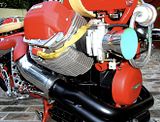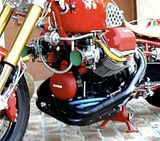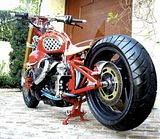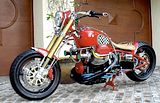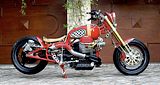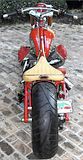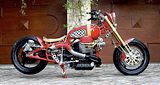 Here's a li'l somethin' you don't see much of... Hows about a 2003 Moto Guzzi bob job? This ain't no ordinary backyard built bob job, neither... According to its owner, this critter is the result of 1000s f hours of work and over $70K investment! Better yet, it was for sale on eBay!
Detailed specs are lacking, but there are some OBVIOUS (and neat) modifications made to this here "Pasta Rocket". Most notable, at least to me, are the remachined heads. Notice those horn lookin' thingies stickin' toward tha' front? Well, the fine designers at Moto Guzzi actually designed them to be sittin' at THA' REAR of the head! I don't know how much work it would take to discombobulate somethin' like that, but I am pretty sure it's over MY head. =)
So, here's a li'l nod to those quirky Italians. And you thought tha' only cool things to come out of Italy were spaghetti westerns! Enjoy!
If you would like YOUR bobber or short chop to be featured, zap me at least three good pix (more is better), any specs, and the story about the build.
See More Bobbers Here! ~~ HOME