2006 Ridley Autoglide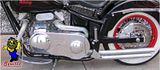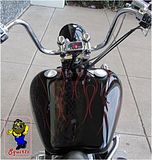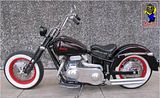 ABOUT THIS BOBBER:
This is a 2006
Ridley Autoglide
. It's a factory bobber and features a 740cc twin cylinder engine with a CVT (constantly variable transmission) similar to that found in Honda Civic automobiles. With a dry weight of only 445 pounds and a very low 24" seat height, this looks to be a decent way to introduce the new rider or one short of stature to the world of motorcycling. A friend of mine has a "standard" Ridley and while it has the looks, he reports that it's not the quickest motorcycle out there (to say the least). I give the Ridley space as "Bobber of the Month" because of its good looks, innovative design and ease of use. While I doubt it will ever be anything more than a "niche" vehicle, the idea of an automatic motorcycle is one that seems to be gaining momentum once again. If nothing else, the Ridley gets props for keeping the idea alive.
---
I'm hesitant to put a "factory" bobber on the screen, but the Ridley Autoglide is an interesting concept on an idea that has been around for a long time and that is to take a fully functional motorcycle and pair it with an automatic transmission. There may have been earlier versions of the automatic motorcycle, but in my mind, credit goes to Honda for thinking WAY out of the box and putting the 450cc and 750cc "Hondamatic" motorcycles on the road. The "Hondamatics" were built from '73 to '79 and featured 2 forward gears ('79 saw the first and last 3 speed) and were designed as a way to bring scooter riders into the world of motorcycling.
Alas, the experiment was not considered a success as the Hondamatics were heavier and more expensive than their manually shifted brethren. I'd like to get my grubby paws on an old 750A as I have heard that they were as mechanically strong as the standard 750 and an interesting ride.
If you would like YOUR bobber or short chop to be featured, zap me at least three good pix (more is better), any specs, and the story about the build.
See More Bobbers Here! ~~ HOME