Our April "Bobber of the Month" winner is a beautiful 1999 Yamaha Roadstar! I had asked its owner to send me some specs but instead of tryin' to throw MY words together to describe it, I'm gonna' let its owner, Steve, do the honors...
"My bike's a 99 Yamaha Roadstar, with 80k on the clock. Counting stock, this is the 4th version I've done of the bike since I've owned it. First, it was a chrome whore with every doodad from the f&*kin catalog bolted onto it. I saw the error of my ways, stripped it down, put beach bars on it and had my buddy in Ohio paint it for me. It was a nice mild custom.
Unfortunately, it was in a small lowside accident last summer so I needed to rebuild it again, and decided to turn it into a bobber for it's next life. I didn't have time or $ to do anything with it for a while, so it sat until October when a buddy and I started tearing it apart in his garage. I shopped the "For Sale" sections of forums and Ebay for used parts to get what I needed. What I couldn't get used we had to make or buy new. Except for the paint, powdercoat and leather work, everything else was done by my buddy Andrew and me in his garage with our grinders, sawsall, my little 110 mig welder and a BFH.
I had already rebuilt the motor a few years ago so it's a monster and ready to go with bigbore, roller cams and headwork. Running an S&S G carb on a manifold made by a company called Nemesis Racing out of Australia. The last bike we built we painted with Rustoleum rattlecan. It came out great, but I wanted something a little more on this one. I managed to sell enough used parts from my parts stash to be able to send my tins to my buddy in OH to get him to paint it for me.

Engine: 98" Yamaha. I rebuilt it at about 50k with 108" bigbore, roller cams, and headwork. Puts out 100hp/125tq
Front end: Shaved the right caliper. Left caliper is from an R1 sportbike. Progressive fork springs.
Wheels: stock Roadstar with twisted stainless spokes
Handlebars: 14" Burly apes, wired internally
Custom speedo face: Webslinger
Floorboards/foot controls: Cycle Smith Banana boards made for HD that we adapted to fit the Yamaha
Seat: tooled by Raleigh Jorgensen, Lima OH
Paint: Joel Mekolites (aka "Reefkeeper"), Lima, OH
Powdercoat: Performance Powdercoating Frederick MD

This ain't no trailer queen. Finished it last Tuesday, had 2 days of rain this week and I still managed to put about 300 miles on it so far this week and still can't get this shit-eatin grin off my face when I ride it. Was in the high 30's here today and threatening rain all day but I still managed to ride 100+ miles."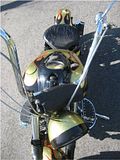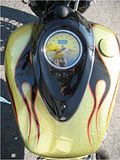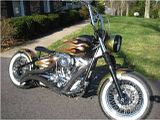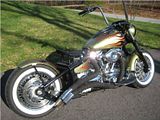 DAMMIT!!!! THIS is what bobbin' and choppin' is about, folks!
Well, done, Steve, I can't think of a better scooter to start off the "Bobber of the Month" club! If you would like YOUR bobber or short chop to be featured, zap me at least three good pix (more is better), any specs, and the story about the build.
See More Bobbers Here! ~~ HOME