Ya' know, I've been ridin' motorcycles for a fair amount of time now, and it really takes somethin' special to get my attention anymore. Case in point: The "Zeppster" ice racer! When I spotted this creation on the net, I was just BLOWN AWAY with the attention to detail and outstanding fabrication work Tobias Guckel, owner of TGS Motorcycles in Germany, has shown with this creation. Some may argue that this isn't a "true" bobber, and I guess they could make tha' point, but it has all of the elements of a bobber, albeit outfitted for tha' ICE. ENJOY!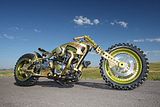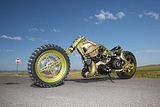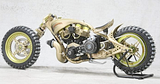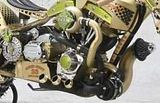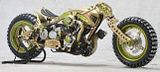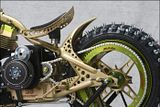 SPECIFICATIONS:
Bike Year / Model 2008
Engine Make / Size S&S 93 ci Shovel
Transmission Type S&S 6-speed
Frame Make / Type TGS Motorcycles/"carrera" rigid
Front End TGS Motorcycles: single arm Rake 45°
Wheels - Front TGS Motorcycles 4,5x18 Wheels - Rear TGS Motorcycles 5,5x18
Tires - Front MEZ 150/70 18 Tires - Rear MEZ 150/70 18
Brakes - Front TGS 11,5" Brakes - Rear TGS mini brake
Painter Marcus Pfeil
If you would like YOUR bobber or short chop to be featured, zap me at least three good pix (more is better), any specs, and the story about the build.
See More Bobbers Here! ~~ HOME