2007 Harley Davidson Sportster, Nightster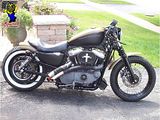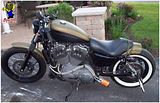 ABOUT THIS BOBBER:
This is a 2007 Harely Davidson Sportster, Nightster edition. This cool li'l ride features a Screaming Eagle Stage 3 kit, "Bitch Slap" pipes, "Chopper Bob" relocation kit, Jagg oil cooler and a number of cool touches.
---
If you would like YOUR bobber or short chop to be featured, zap me at least three good pix (more is better), any specs, and the story about the build.
See More Bobbers Here! ~~ HOME