Updated August 7, 2012

---
This section within SBP gives a photo/video account of some of the cool motorcycles and people I spot/meet/talk to while out 'n about on my scooter. I must admit, there's really no rhyme nor reason for the stuff that shows up here other than the fact that something "interesting" drew me to pull out my camera and snap a pic or shoot some video.
I am a "bobber" and "vintage" guy (any brand), so don't get bent if you see more bobbers and vintage iron on this page than other types of scooters. If I have a picture of you or your scooter on here and you would like the picture removed, just zap me and I'll git 'er done, no problem. If I have a picture of your scoot on here and you would like to zap me some specs about, please do so. A good scooter is like a good ol' lady. They ALWAYS have a story to tell. Enjoy and stay safe out there! ~Squirts

Newest Updates: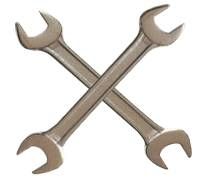 Vintage Bike Night St. Louis (8/7/12)
Had a nice experience in St. Lou recently attending the "Vintage Bike Night" there. Zap yourself to the "Rants & Raves" page for details. Stay here for the pix. Enjoy!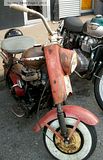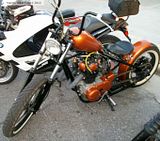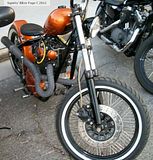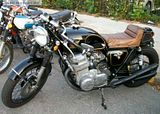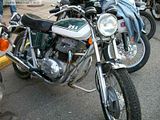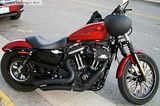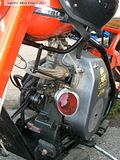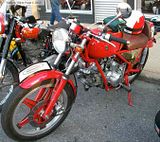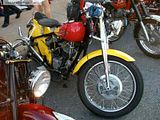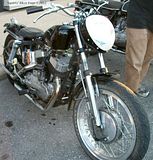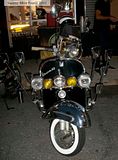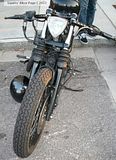 Geos and Pasta House Bike Night (5/24/12)
Rode to Geo's Wings in Belleville on May 24th for their bike night. I got there early and there wasn't much goin' on...
Second stop was the Pasta House bike night... Larger crowd with a myriad of chromed out garbage wagons and stretched out, fat-tire "factory" choppers... Beautiful paint on some of 'em, but where's the originality? Wandered the parking lot a bit until I ran into a nice feller prospecting for the Buffalo Soldiers MC (He has since earned his full patch,,, Congrats!). Actually, HE ran into ME as I was ogling one of the few bobbers in the lot (which just happened to be his). His ride is a mild, clean, rather understated Dyna, lost in a sea of neon paint and triple chrome... No flaming skulls on his scoot and we both agreed that the "essence" of a motorcycle is an engine, two wheels and a rider. All the rest is gee gaw. I also laughed when I spied his " Kill 'em all" sticker... Flashback to my Cavalry Days and my time in tha' Green Machine!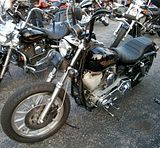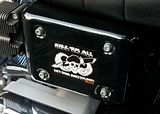 The second bike worth noting is a cool old Yammer jammer. Harley guys may get a thrill staring at a V-twin, but I'll take a bank of four headers split into two muffs any day! An inline four banger is bad ass, in my book. We talked briefly about the build and all agreed that low buck bob jobs are the best way to roll.

VFW Rider Squirts Rides with the Missouri AMVETS Riders (4-7-12)

Litchfield, IL "Vietnam Veteran Welcome Home" Parade,

2012 Bike Blessing & Downed Rider Memorial

St. Louis "Welcome Home Iraq Vets" videos

Spotted at Geo's Wings 'n More and Pasta House bike nights July 29th, 2011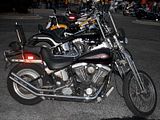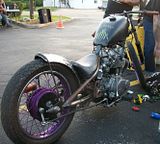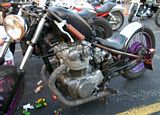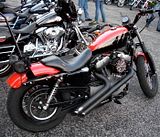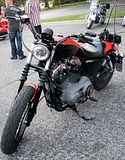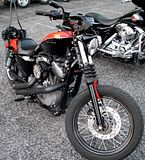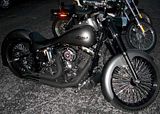 Tha' first bike is a buddy of mine's ride. I've always had a thing for springers and his ride is a simple, clean bob job. That cool li'l hardtail caught my attention simply because "it is what it is". She is a bad li'l Honda, fer sure! Tha' red 'n black sporty bob has a bunch of small details that really make this bike "pop". It's creator sounds a lot like me in that he likes to take shit that ain't s'pose to be on a bike and make it work. Tha' last bike is more of an up-scale custom. I'm not normally a fan of the "tall tire" craze (not big on tha' fat tire craze, either), but the scoot jus' had a nice, clean look to it.
---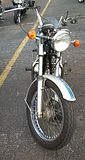 I can't think of a better way to start out this page than by showing some pix of a very cool old classic. I refuse to put "trailer queens" on this site and despite being one of only 1,000 "Silver Jubilee" Triumphs ever made, this ol' girl gets ridden!
---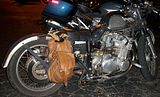 I've seen this cool li'l bobber scooterin around the Fairview Heights area. I DIG the tank! If you own this scoot or know who does, please zap me. I'd love to some specs!
---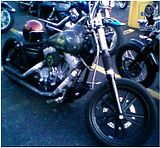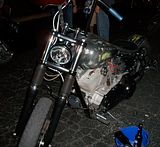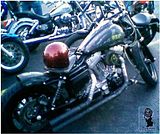 I've seen this scooter a few times before. The pix really don't do it justice and I hope to snap some better pix in the future. The first and last pix were actually snapped the week before the middle two with my camera phone. I think this bobber would be a great candidate for "bobber of the month".
---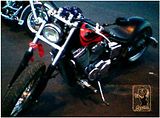 Spotted this cool li'l bobber a few weeks back and just got around to loadin' it up... The wide glide front endreally sets off the rest of the bike, if'n ya' ask me. Nice!
---
HOME